We're Getting Mutants in the MCU - The Loop
Play Sound
Eddie Kaye Thomas as "Finch"
Birthplace
Somewhere in Michigan
Portrayed by
Eddie Kaye Thomas
Paul Finch, often addressed only by his last name Finch , Finch is one of the core characters of the original trilogy. He is a "nice guy" who comes across as somewhat "intellectual" and "philosophical," which typically leaves him unappealing to the ladies. His most notable contribution to the series involves a "Mrs. Robinson" scenario with Jeanine Stifler, Steve Stifler's mom. Jeanine is the subject of fantasy for many of the boys at Finch's schoool, some of whom have dubbed her a "M.I.L.F." (Mom I'd Like to Fuck), but Finch is the one who actually goes all the way with Stifler's mom - thrice. Finch has something of a rivalry with Stifler after American Pie.In the end of American Pie 2 Finch reveals that Stifler's mom's first name is Jeanine. He then drives off in Jeanine's car and has sex with her, As Finch calls out her name erotically, Jeanine advises him to call her "Stifler's mom".
In American Wedding, while both in the process of trying to win the affection of Michelle's sister Cadence, the two rivals switch roles briefly after Stifler overhears a conversation detailing Cadence's preference for "nice guys." This seems to backfire after Cadence declares that she's sick of dating nice guys, and Finch switches tactics to mimic Stifler's usual bad-boy ways. Cadence finds out about the double ruse, and appears to choose Stifler when all is said and done. Though he has "won," Stifler is still aggravated by Finch's grace in defeat. In the heat of the moment, Stifler calls Finch a "motherfucker," and is quickly reminded by Finch: "Ya know, I did fuck your mom. Twice."
In American Reunion, Finch appears driving a motorcycle, which he stole from his boss, who promised to give him a raise. Finch is shown to have gotten over Stifler's mom and is now dating a woman named Selena, who is an old friend of Michelle's and she also used to be an ugly duckling, but has now sprouted into a beautiful swan. Finch was also the only one who was nice to her in high school. While at the reunion, his mother arrives, much to Stifler's delight, as he seduces and has sex with her on the bleachers of the school lacrosse field, for the torment of him lusting and sleeping with his mom on many occasions.
Personality

[

]
Finch appears to be very smart as he frequently uses standardized vocabulary. He is also a nice guy and it can be assumed that he treats every individual equally because he was the "only" person who was nice to Selena at high school ( Selena was a ugly duckling, despite her outer appearance - Finch was nice to her).
Finch also has knowledge about Latin and Japanese, In American Pie 2, he is often seen reading a book and also meditating (Tantric which he says it helps to channel the bodies energy and a person can have sex for hours or even days).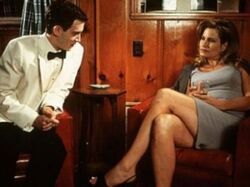 Memorable Quotes
[
]
"STIFLER'S MO-O-O - OM!"
"I did fuck your mom. Twice."
 "No, you bleating imbecile. They have style, they're cultured, they're sophisticated."
"That is what the cretins drink. I'm talking about alcohol. Liquor. The good stuff."