{{{caption}}}
Birthplace
{{{birthplace}}}
Birthdate
{{{birthdate}}}
Relationships
Jim Levenstein - Crush/Former Babysitter
[[Madison &
Alexa]] - Best Friends
A.J.
- Ex-Boyfriend
Kara is the attractive girl next door in American Reunion.
Kara is first seen when she comes out of the house next door from Jim's house to meet her boyfriend, A.J., who has just pulled into her driveway.
Jim
sees her coming out and stares at her until she sees him.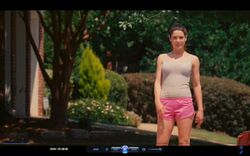 Jim is startled when she says his name and runs over to give him a hug. Unaware of who she is at first, Kara reminds him that she is the girl that he once used to babysit. Jim is surprised how much Kara has grown up. Jim never had a chance to tell Kara that he is married to Michelle Flaherty and has a kid. Kara tells Jim that she is turning 18 and that she wants him to come to her party. A.J. then honks for Kara to hurry up and, annoyed, she bids Jim goodbye and leaves. Aj treats her badly he sees Kara as a trophy girlfriend. Aj wants to have sex with her. She said no.
At a party that Stifler was throwing, Kara tried to seduce him, but Jim said no, I think he was planning on telling her that he is married. Never had a chance, AJ appeared to pick a fight with Jim and his friends, when he thought he was making a move on Kara. But he didn't. Jim and his friends fought AJ's friends and left. AJ and Kara broke up for good.
After the reunion, Jim ran into Kara and apologized for his treatment to her as she apologized as well and said that he was right, she was moving too fast to lose her virginity and find the right person. Jim related on how he was like that at her age as she understood, mentioning she saw his previous youtube videos. They left on good terms and are still friends.
Community content is available under
CC-BY-SA
unless otherwise noted.