Portrayed by
Jennifer Coolidge
Jeanine Stifler (aka Stifler's Mom) is the mother of Steve Stifler and Matt Stifler. She is the source of the now wildly famous term "MILF" (Mom I'd Like to F*ck) - first coined by John Cho's character, and one of the only supporting cast members to appear in all four films featuring the original cast. She is a common fantasy among the male students at East Great Falls High being described as the goddess and queen of Milf !
In "American Reunion", she meets Noah Levenstein and learns he is Jim's father before they begin talking. They soon laugh about some humiliating moments that they caught one of their sons doing in the past.
She soon starts dating the widowed Noah, after sharing drinks and a joint. She falls in love with him because although he is quite geeky, he is a gentleman, interested in her for who she is, instead of a sexual lust like most men. She's also revealed to not be so promiscuous as she appears to be in the first three films. As she truly wants to be loved and be treated like a lady, she is fed up with the current man in her life and sees something special in Noah. In a post-credits scene, she and Noah are on their first date at a movie theater and when he romantically wraps his arm around her, causing her to feel flattered. She then performs oral sex on him as gratitude.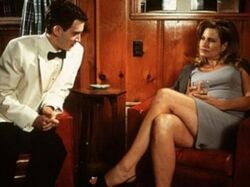 Memorable Quotes
Edit
"Aged 18 years, the way I like it..." (American Pie)
"Mr. Finch, are you trying to seduce me?" (American Pie)
"Wanna get it on?" (American Pie 2)
"Call me Stifler's Mom" (American Pie 2)
"If this is your idea of a proposal...Finchy, you gotta know I'm over you now" (American Wedding)
"You're not finished yet, are you Finchy?" (American Wedding)
"First of all, Steven, it's my house! You're lucky I'm letting you stay here!" (American Reunion)
"I can't tell you how many times I've came home and found Steven in bed having sex with some girl" (American Reunion)