We're Getting Mutants in the MCU - The Loop
Play Sound
Portrayed by
Jennifer Coolidge
Jeanine Stifler Jeanine Stifler is the literal definition of MILF. I wish she had a Hub account if ya know what I mean😉. Stifler must be very jealous his mom is a MILF and literally everyone would like to be with her but he can't haha.
History
[
]
In American Pie, Paul Finch has a "Mrs. Robinson" moment with her, as he seduces her, and loses his virginity to her, on a pool table. He subsequently becomes obsessed in the following two films, American Pie 2 to American Wedding, much to her son Steve's dismay. The moment would become grander in scale and a trope in the movies.
The two "come together" for a second rendezvous at the end of American Pie 2. Her car is spotted by her son who doesn't recognize they it but questions his friends on the driver. It goes to another area, where we see them rocking Jeanine's Mercedes so violently that its alarm is set off, as Finch screams the quote of "Stifler's Mom!".
Jennifer Coolidge reprises her role in American Wedding, where she again has sex with Finch, in a bathtub, as Finch gives her oral sex.
In "American Reunion", she talks with her son about leaving the house, so he can throw a party. She refuses to leave her home and he hangs up. Jeanine is seen again, she is on the phone with a recent suitor before she meets Noah Levenstein and learns he is Jim's father. She then hangs up on the suitor, after being interested in Noah. They soon laugh about some humiliating moments that they caught one of their sons doing in the past. She soon starts dating the widowed Noah, after sharing drinks and a joint.
In a post-credits scene, she and Noah are on their first date at a movie theater and he romantically wraps his arm around her, causing her to feel flattered. She then performs oral sex on him as gratitude.
Personality
[
]
She appears to have a wild side along with being promiscuous, as she seduced Paul Finch three times because of his innocence.
She later takes an interest in Noah Levenstein because although he is quite geeky, he is a gentleman, interested in her for who she is, instead of a sexual lust like most men. She's also revealed to not be so promiscuous as she appears to be in the first three films. As she truly wants to be loved and be treated like a lady, she is fed up with the current man in her life and sees something special in Noah. Her interest was well-suited, as she was moved by his attempted romantic gestures.
Gallery
[
]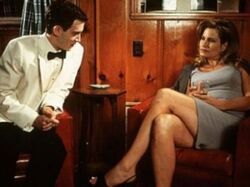 Memorable Quotes
[
]
"Aged 18 years, the way I like it..." (American Pie)
"Mr. Finch, are you trying to seduce me?" (American Pie)
"Wanna get it on?" (American Pie 2)
"Call me Stifler's Mom" (American Pie 2)
"If this is your idea of a proposal...Finchy, you gotta know I'm over you now" (American Wedding)
"You're not finished yet, are you Finchy?" (American Wedding)
"First of all, Steven, it's my house! You're lucky I'm letting you stay here!" (American Reunion)
"I can't tell you how many times I've came home and found Steven in bed having sex with some girl" (American Reunion)