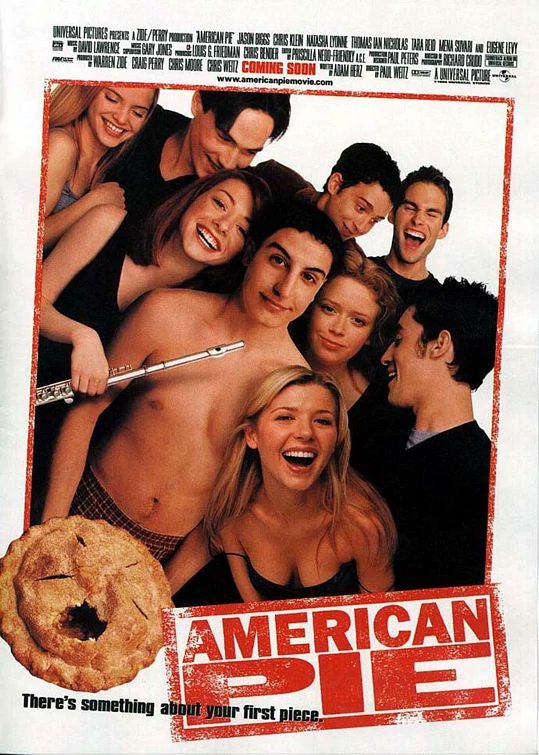 American Pie is a 1999 teen comedy directed by Paul and Chris Weitz, and written by Adam Herz. It was the first film to be directed by the Weitz brothers, and the first film in the American Pie series. The film was a box-office hit and spawned two direct sequels: American Pie 2 (2001) and American Wedding (2003).
The film concentrates on four boys who make a pact to lose their virginity before their high school graduation. The title of the film refers to a scene in the film in which the lead character is caught masturbating with a pie after previously being told that third base feels "like warm apple pie".
The film ranked 49th on Bravo's "100 Funniest Movies" list, and ranked 22nd on Entertainment Weekly's list of the 50 Best High School Movies. In 2000, readers of Total Film magazine voted American Pie the 6th greatest comedy film of all time and in 2006 viewers of Channel 4 in the UK voted it 7th in a list of the 50 Greatest Comedy Films.
Since the conclusion of the American Pie trilogy, featuring the courtship and marriage of the characters Jim Levenstein and Michelle Flaherty, the American Pie name has gone on to be used as an entity similar to the National Lampoon film series. American Pie has spawned four direct-to-dvd spin-off films bearing the title American Pie Presents: Band Camp (2005), The Naked Mile (2006), Beta House (2007) and the The Book of Love (December 2009).
Four Michigan high school seniors make a pact to lose their virginity before their high school graduation after a geeky classmate, Chuck Sherman (Chris Owen) claims to have done so at a party at fellow classmate Steve Stifler's (Seann William Scott) house. During this party Kevin and Vicky go upstairs and she performs oral sex on him. After Kevin ejaculates into a full plastic cup of beer on a nightstand in the bedroom while trying to lose his virginity, the cup is placed on the nightstand and Kevin and Vicky leave. Stifler comes in a short time later and as he's seducing his date, picks up the tainted beer and takes a large gulp, resulting in him making a mad rush to the toilet and vomit. Kevin asks him how the pale ale was, and Stifler shouts "Fuck you!" in disgust.
Kevin Myers (Thomas Ian Nicholas), the initiator of the pact, tries to repair his relationship with his girlfriend Vicky (Tara Reid) after they have a serious fight at the party when she accuses him of being with her only for sex. Chris 'Oz' Ostreicher (Chris Klein), who is on the high school lacrosse team with Stifler, joins the jazz choir to pick up girls, as the girls in the band know little of his insensitive jock reputation. Paul Finch (Eddie Kaye Thomas), the mochacchino-drinking sophisticate, pays Vicky's friend Jessica (Natasha Lyonne) $200 to spread rumors around the school of his sexual prowess, hoping that it will increase his chances of success.
Jim Levenstein (Jason Biggs) pursues Nadia (Shannon Elizabeth), an exchange student from (former) Czechoslovakia. After she comes to Jim's house to study with him, she has to change clothes after her ballet practice, so Stifler convinces Jim to set up a webcam so they can watch her change. Jim quickly heads over to Kevin's house to watch her. Once he gets there Nadia is seen on the computer discovering his pornography collection hidden in his dresser and she begins looking through it while masturbating.
Kevin urges Jim to go back home, saying this is his best opportunity to lose his virginity. Jim arrives and Nadia orders him to strip. Meanwhile, it becomes apparent that he had incorrectly addressed the email with the web cam link to Kevin and Stifler, having instead sent the link to every mailbox in the school directory; virtually the entire student body (as well as Blink-182 in a cameo) are watching.
As Jim slowly caresses her leg up to her genitals, he climaxes prematurely. As Nadia is about to leave, he convinces her to stay, but upon seeing her nude and touching her pubic area, he climaxes prematurely again, humiliating himself in front of the entire student body. In his desperation, Jim asks band geek Michelle Flaherty (Alyson Hannigan) to the senior prom as she is apparently the only girl at his school who did not see what happened.
Kevin complained earlier to Jim and all about the fact that Vicky is delaying having sex, and she overheard this comment. Annoyed at him, he vows to make it up to her. Remembering what Jennifer has told him, Kevin performs oral sex on her, making her experience an orgasm. She is ecstatic, as he performs the "tongue tornado" on her. She yells "I'm coming!" loudly and, conveniently, just as her father is about to walk in to call her down for dinner.
Finch, meanwhile, has his own problems. Stifler, angry that a girl turned him down for the prom because she was waiting for Finch to ask her, as well as the rumor going around that Finch beat him up, puts a laxative into Finch's mochacchino. Finch, being paranoid about the lack of cleanliness in the school restrooms, and unable to go home to use the toilet as he usually does, is tricked by Stifler to use the girls' restroom. Afterward, he emerges before many other fellow students, humiliated and is left dateless.
At the prom, everything seems hopeless for the four boys until Vicky asks the girl that Chuck Sherman claimed to have bedded about her "first time." She proclaims to everyone at the prom that she and Sherman did not have sex at Stifler's party, leaving Sherman embarrassed and making him wet himself. The revelation takes the pressure off of Jim, Kevin, Oz and Finch, and they head to the post-prom party with new hope.
At the after-party at Stifler's house, all four boys fulfill their pledge. Kevin and Vicky have made up and have sex in an upstairs bedroom, but the act is very awkward. Vicky breaks up with Kevin afterwards on the grounds that they will drift apart when they go to college, with him attending the University of Michigan and her at Ithaca College.
Oz confesses the pact to Heather (Mena Suvari), a girl from the jazz choir, and renounces it, saying that just by them being together makes him a winner. They fall in love, begin a relationship, wind up making love on the porch; the reformed Oz never confesses what they did.
Finch strays downstairs to the basement recreation room where he meets Stifler's mother (Jennifer Coolidge). She is aroused by his precociousness, and they have sex on the pool table. In the morning Stifler doesn't understand why the door is locked, and upon entering he realizes that his mom has had sex with Finch and faints, unable to believe that his mom and "shitbreak" are together.
Jim and Michelle have sex after he finds out that she saw the "Nadia Incident" after all. She accepted his offer to be his date because of it, knowing he was a "sure thing," but she makes him wear two condoms to combat his earlier "problem" with Nadia. Jim is surprised by Michelle's unexpectedly aggressive behavior in bed. In the morning he wakes up to find her gone—she used him for a one-night stand, which Jim thinks is "cool."
The morning after the prom Jim, Kevin, Oz, and Finch eat breakfast at their favorite restaurant - with the fitting nostalgic name, "Dog Years" - where they toast to "the next step."
Characters
Edit
Soundtrack listing
Edit
American Pie: Music from the Motion Picture

Edit
Soundtrack by Various artists
Released
June 29, 1999 (1999-06-29)
Length
46:02
Label
Uptown, Universal
Professional reviews
*Allmusic link
Various artists chronology

American Pie: Music from the Motion Picture

(1999)

American Pie 2: Music from the Motion Picture

(2001)
Third Eye Blind - "New Girl"
Tonic - "You Wanted More"
Sugar Ray - "Glory"
Super TransAtlantic - "Super down"
Dishwalla - "Find Your Way Back Home"
Bic Runga and Dan Wilson - "Good Morning Baby"
Shades Apart - "Stranger by the Day"
Bachelor Number One - "Summertime"
Goldfinger - "Vintage Queen"
Loose Nuts - "Wishen"
The Atomic Fireballs - "Man with the Hex"
The following songs were included in the movie but were not featured on the soundtrack:
Oleander - "I Walk Alone"
Hole - "Celebrity Skin"
Duke Daniels - "Following a Star"
BT featuring Jan Johnston - "Anomaly (Calling Your Name)"
Etta James - "At Last"
In popular culture
Edit
The film popularized the term MILF (Mom I'd Like to Fuck). The phrase is first uttered by actor John Cho in a scene in which two guys are looking at a picture of Stifler's mom, whom Paul Finch later has sex with. The phrase is now common in pornography featuring women in their 40s and higher.
Jason Biggs appears in the film Jay and Silent Bob Strike Back (2001) as himself, in which he is referred to as "the guy who fucked the pie". He then goes into an angry rant about how he's tired of it being the only thing he is known for, despite his numerous other films. Later in the film, when being falsely arrested due to a case of mistaken identity, he shouts "Don't you know who I am? Look at me, I'm the pie fucker!" The arresting officer then comments: "In prison, you'll be the pie!"
Community content is available under
CC-BY-SA
unless otherwise noted.