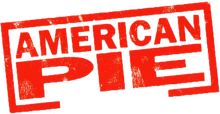 American Pie is a series of sex comedy films. The first film in the series was released in 1999, by Universal Pictures, and became a worldwide pop culture phenomenon, cult following amongst young people. The second and third films were released at two-year intervals, whereas the fourth film was released in 2012. A spin-off film series titled American Pie Presents, which includes four direct-to-video films was released from 2005 to 2009.
American Pie (1999) Edit
The film concentrates on five best friends (Jim, Kevin, Oz, Finch, and Stifler) who attend East Great Falls High. With the exception of Stifler (who has already lost his virginity), the guys make a pact to lose their virginity before their high school graduation.
American Pie 2 (2001) Edit
The film picks up the story of the five friends from the first film as they reunite during the summer after their first year of college.
American Wedding (2003) Edit
the story centers on Steve Stifler, and his outrageous antics including his attempt to organize a bachelor party, teaching Jim to dance for the wedding, and competing with Finch to win the heart of Michelle's sister, Cadence.
American Reunion (2012) Edit
Jim, Michelle, Stifler, and their friends reunite in East Great Falls, Michigan for their high school reunion.
Spin-Off Films
Edit
Band Camp (2005) Edit
Matt Stifler wants to be just like his big bro, making porn movies and having a good time in college. After sabotaging the school band, he gets sent to band camp where he really doesn't like it at first but then learns how to deal with the bandeez.
The Naked Mile (2006) Edit
When Erik Stifler gets a free pass to do whatever he wants from his girlfriend, he and his two best friends head to see his cousin Dwight for the Naked Mile and a weekend they will never forget.
Beta House (2007) Edit
Erik, and Cooze start college and pledge the Beta House fraternity, presided over by none other than legendary Dwight Stifler. But chaos ensues when a fraternity of geeks threatens to stop
The Book of Love (2009) Edit
Ten years after the first American Pie movie, three new hapless virgins discover the Bible hidden in the school library at East Great Falls High. Unfortunately for them, the book is ruined,...
Girls Rule (2020) Edit
Jason Biggs as Jim Levenstein
Chris Klein as Chris "Oz" Ostreicher
Thomas Ian Nicholas as Kevin Myers
Eddie Kaye Thomas as Paul Finch
Tara Reid as Vicky Lathum
Mena Suvari as Heather Gardner
Seann William Scott as Steve Stifler
Alyson Hannigan as Michelle Flaherty
Eugene Levy as Noah Levenstein
Shannon Elizabeth as Nadia
Natasha Lyonne as Jessica
Chris Owen as Chuck Sherman
Jennifer Coolidge as Stifler's Mom
Critical Reception
Edit
| | | | |
| --- | --- | --- | --- |
| American Pie | 60% (124 reviews) | 58 (30 reviews) | A- |
| American Pie 2 | 52% (126 reviews) | 43 (28 reviews) | B+ |
| American Wedding | 54% (155 reviews) | 43 (34 reviews) | B+ |
| American Reunion | 43% (175 reviews) | 49 (34 reviews) | B+ |
Community content is available under
CC-BY-SA
unless otherwise noted.